You Are Visitors No.:
781914
D. Enterprises Co.,Ltd.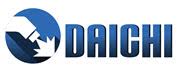 has been the top leading manufacturer for professional arc welding and plasma cutting machines in Thailand since 1971 under the brand "PLANG"and "DAICHI" For over 45 years we continuously develop and improve our quality along with our reputation in both local and overseas market.
Company Name

D. Enterprises Co.,Ltd. .

Address

121/1-5 MOO 12 PHETKASEM RD., OMNOI, KRATHUMBAEN, SAMUTSAKHON 74130 THAILAND

TEL

+66 2 420 0078, 420 0559, 420 2903-4, 812 8670-1

FAX

+66 2 420 9965

Email

Website

Contact Person

Ms.Ubonwan Osananon

Mr.Pichet Osananon

Product Categories

AC & AC/DC Arc Welding Machine
MMA/TIG DC Arc Welding & Gouging Machine
DC TIG Arc Welding Machine
AC/DC TIG Arc Welding Machine
MIG/MAG Arc Welding Machine
Plasma Cutting Machine
Spot Weldin
Metal Spray Arc Welder
---